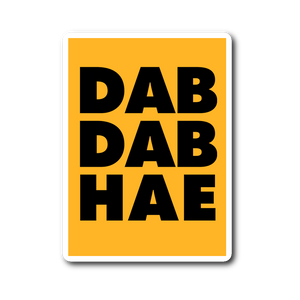 "KOREAN: Dab Dab Hae" Sticker
Dab-Dab-Has is a Korean word without a direct English translation. It has multiple definitions, such as "stuffy" or stifling" and is often used to describe the physical sensation of suffocation caused by frustration,  the inability to speak or act freely. It is widely used in K-Pop and Korean Dramas.
PRODUCT DESCRIPTION
Our stickers are a great way to showcase self-expression or to promote a message. Our stickers are printed with resounding colors that are designed to last and are fade resistant. They are made of extremely durable vinyl and are perfect for both indoor and outdoor applications. They are waterproof and do not leave a residue if removed. They are also writable with a permanent marker, great for tagging or collecting the signatures of your favorite artist(s).

Exclusive design found only at AO Apparel
4"x4"
0.15mm Thick